Prevent Downtime
Battery Backups and Battery Monitoring Plans
Designed for Your Critical Facility
You Shouldn't Have to Worry about the Power Going Out
Be the Hero. Protect your critical facility and make it home in time for dinner.
Be Ready
with a Battery and Battery Monitoring Plan
Stay Online
When the power goes out, the batteries go to work, giving the generator time to kick in. Eliminating downtime and keeping the organization running.
Save Money
With a battery monitoring system, you'll know when to replace one battery instead of having to replace 40 at once.
Reduce Stress
Stop worrying and know you have a backup plan and a partner in your corner when the power goes out.
You Need a Partner
One who has seen the good, bad, and the ugly of downtime.
We know the stress and frustration a power outage can bring.
We're proud to say we've:
Protected critical facilities all over the world
Monitored over a million batteries
Maintained 100% uptime
Contact Us
We want to learn about the unique requirements of your critical facility.
Design the Solution
We design a battery and battery monitoring plan specific to you.
Monitor and Relax
You can monitor the batteries and relax knowing you're prepared for downtime.
Why Work with PTI?
At PTI Solutions, we partner with critical facility managers who keep the world running.
We know the stress that comes with being responsible for keeping the world's critical technology up and running. If you don't have a plan in place for when the power goes out, the facility will go offline. Money and time can be lost, the stress skyrockets, and you could potentially lose your job. We work with facility managers to put battery and battery monitoring plans in place, so there's backup when the power goes out. You can buy solutions off the shelf, but one size doesn't fit all. Each critical facility is different. They require a unique plan. We take the time to understand your organization. We design battery and battery monitoring plans to fit your facility. When you work with PTI, you can go home and have dinner with your family without worrying about what happens if the power goes out.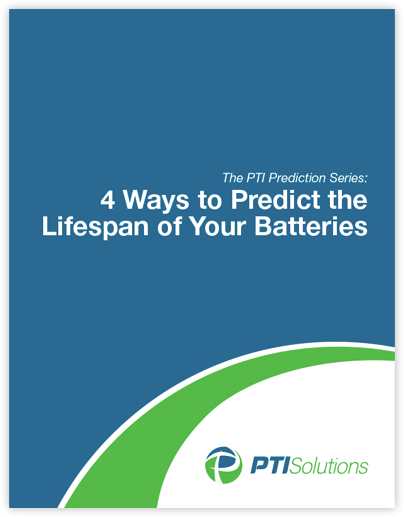 Download our free pdf to start predicting the life of your batteries.
PTI Solutions is committed to your privacy. We use the information you provide above to contact you about our relevant products and services. You may unsubscribe from these communications at any time. For more information, check out our Privacy Policy.
Start preventing downtime with a battery and battery monitoring plan designed by PTI Solutions.