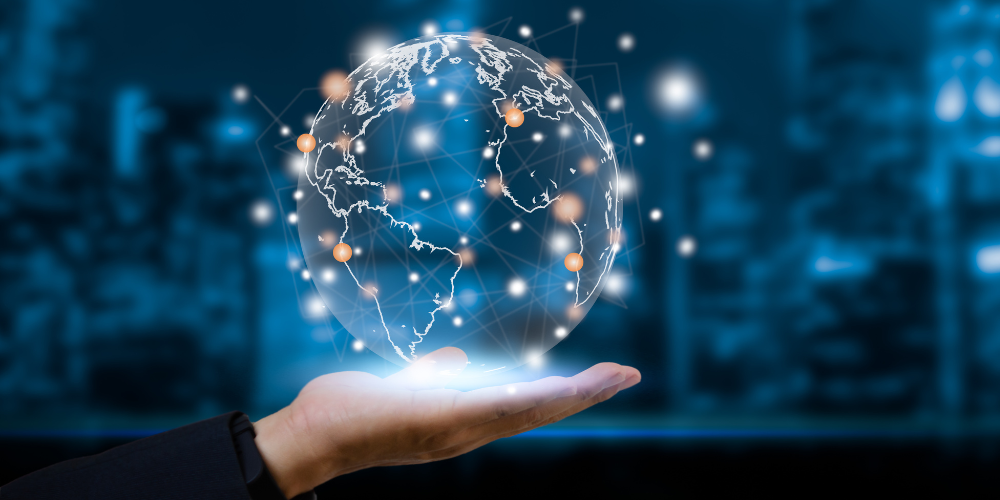 The industry is changing – we saw some consistent trends within the last few years and believe those changes will continue to mold the industry into 2023. As a reseller, we have a unique advantage to see the industry from a 10,000-foot view because we don't focus on just one product line or solution. We have multiple products, vendors, and solutions, and touch a variety of areas. Using that expertise, we've developed our 2023 Industry Insights with observations to help you navigate our ever-changing industry.
"The only thing constant is change itself." Heraclitus, a Greek Philosopher
Growth, Growth, and More Growth
Everyone talks about the hyper scalers growing. For example, Google is building a new site, Meta is doubling their campuses, Amazon is buying new land, and the list goes on and on but growth isn't just limited to the big guys. We've seen requests increase in size over the last few years. Requests include bigger systems, more monitoring, and new site buildouts due to growth and expansion.
Growth is Created Equal
This growth isn't limited to data centers specifically, it is touching everyone. Think about utilities, with record numbers of people in the US, utility companies need bigger networks and more equipment to support population growth.
Telecom is expanding at a rapid pace, moving from 3G to 4G, 5G, and beyond and as they grow their networks, they need to grow their footprint too. A bigger footprint means more equipment – hardware and software.
Back in the early 2000s, battery monitoring requests were for 4 strings, 8 strings, and if someone needed a 20-string battery monitoring job, that was a big deal! Today, the average battery monitoring job request is above 50 strings, and it's never a surprise to get a 100+ string request come through our office.
Growth Doesn't Always Equate to Good
More equipment and bigger facilities don't always mean better. As a result of increased demand, manufacturers are struggling to keep up. The supply chain issue is not anything new and we all understand it, but don't have to love it. The missing piece that isn't talked about is the lack of increased planning. Organizations are still operating as if they can order an item and have it on-site within a few weeks, and that is rarely the case.
We've been working diligently with our customers to help them plan and understand the long lead times so our products don't delay their projects. Planning and looking out further than the next quarter is a shift in process that organizations will need to adapt to prevent delays or supply chain hiccups.
The growth within our industry is exciting and challenging, at the same time. It will be interesting to see how this growth continues in the coming year.
100%+ Uptime – The New Standard
When speaking with our customers, we always want to understand the goals and targets they wish to hit within their facility. One major target we talk about is uptime and not just uptime but reaching 100% uptime. That's 0% downtime. Years and years ago 96% uptime was acceptable and normally, we've seen 99.98% as the standard but now the room for error and downtime is zero. The Uptime Institutes 2021 Downtime report, reported that downtime is lasting longer and costs more. This is a bad combination and no surprise facilities have set this goal of 0% downtime.
Monitoring Provides the Solution
To achieve 0% downtime, facilities are turning to advanced monitoring. Ten years ago, monitoring was an optional adder and now it is a must-have item. Customers want to know what's happening 24/7, get alerts, and set thresholds to warn before a major issue occurs. With these types of securities in place, facilities have been able to see impressive uptime results.
We're also seeing customers want to monitor all aspects of their facility. Batteries, which used to be somewhat of a forgotten item, have become a normal part of better management through monitoring. Especially with the work-from-home shift that occurred during COVID, the industry learned that they can't always have staff on-site to monitor the equipment. Monitoring allows remote monitoring with thresholds, alerts, and alarms so you can respond to problems before they become bigger problems instantly.
New Tech Leads the Way
New technologies need to be implemented to help achieve the goal of zero downtime. Technologies such as lithium, immersion cooling, and complex monitoring answer the call. The need for more will forever change the landscape of critical facility infrastructure.
We have to ask ourselves, what will the standard be five years from now?
Individual and Separate Networks Required
Throughout this year we have worked on multiple projects that entail moving all of the facility's hardware and software onto their own, separate, secure network. Increased security is making it harder for facilities to manage their devices on their corporation's internal network. Imagine, your IT security team does hourly security scans and knocks your equipment off the network every single time. This is just a headache waiting to happen.
We have built completely separate networks for critical facility hardware to live, making access easy. The facility manager can remote VPN login to a network and be able to access all equipment, whenever needed. No more contacting IT, IT security, and anyone else to request access or solve a problem for equipment that facilities is responsible for. In the world of 0% downtime and immediate response requirements, teams don't have time to jump through these hoops.
We have seen a huge increase in requests for this service. As a result, we are working to ensure our offerings meet the demands of today's security needs.
Right Brain Meets Left Brain
It's always been thought that creativity comes from the right hemisphere of your brain and analytical and logical thinking comes from the left side of your brain. Today's facility needs a mix of both. Gone are the days of looking at problems analytically. The phrase, "well that's how we've always done it" has officially been outlawed. Creative people are needed to help solve some of the common problems facing critical facilities.
New and creative solutions are being tested all over the world to help make the data centers of the future.
Look at immersion cooling, did you ever think that liquid and servers would mix? It's such a crazy concept because were told not to put electronics in liquid but two creators in Spain decided they could challenge that way of thinking and created Submer immersion cooling. In other parts of the world, data centers are experimenting with other forms of liquid cooling that are seeing results.
These new and creative ways of thinking about data center solutions are a breath of fresh air and we know we will continue to see more trends like this, and we're excited about it!
Change is Certain and Necessary
Are you ready for change, because change is coming? Things have to change, the way we did it five years ago, ten years, it's coming to an end. We can't expect to use the same technology we were using ten years ago and meet the demands of today.
Some changes occurring in the industry are scary (lead times), while some are exciting (lithium). But, one thing is certain, change is necessary to keep moving our industry forward and we're excited about the changes.
Winston Churchill said it best, "To improve is to change; to be perfect is to change often".