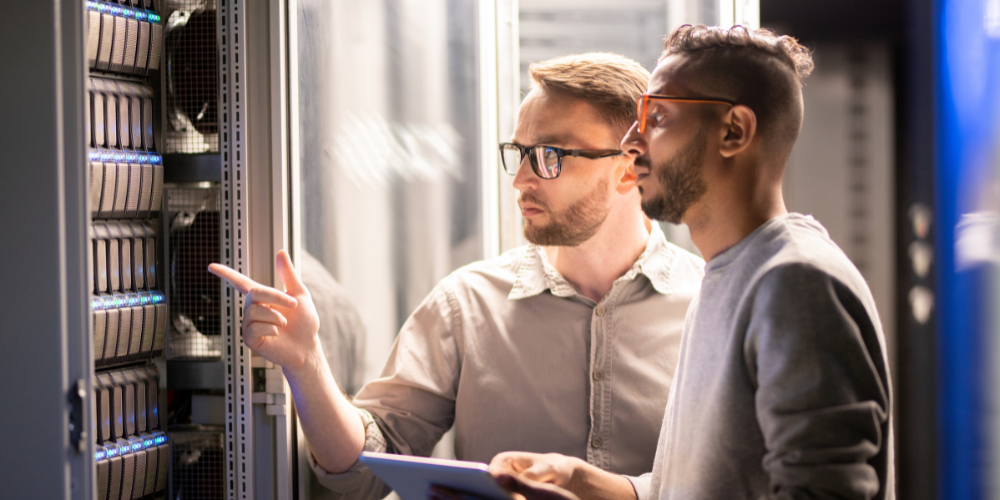 With 20+ years of critical facility experience, we understand the importance of backup power to every facility. With this complexity, we're here as your backup power partners to help you design a system that meets your needs. To ensure you have a comprehensive system in place we recommend a combination of equipment: UPS, extra battery backup, PDUs, and a generator.
Uninterruptible Power Supply (UPS)
A UPS is the first line of defense for your facility. A UPS provides backup power to your critical equipment when there is a drop in voltage or a power loss. The UPS will keep your equipment running during these power events so the equipment does not require a hard restart.
Imagine your favorite local coffee shop is closed because they can't accept debit/credit transactions. The storm caused a power loss and they don't have a backup power system and now their system has crashed and are not rebooting correctly. A UPS could have ensured they were able to keep their doors open with no interruption to their point of sale or business hours.
What if a corporate office with 500+ employees can't access the company's network because of a down power line and is now at a complete standstill? A UPS could have ensured all employees had continual access to their networks, no matter what.
Think about calling your doctor and not being able to get through because their network phones are down. A UPS could have prevented this.
Backup power ensures in times of uncertainty, your company can continue operations. Add a little certainty to those times with a backup power system.
We offer a variety of UPS' including Single Phase, Split Phase, Three Phase, and Lithium-Ion options ranging from 500VA to 2MW. We also provide a suite of power management software to enable you to monitor and control your power infrastructure.
Our UPS Partners
Power Distribution Units (PDUs)
Increasing rack power density is crucial for reliable power distribution. Because not using a proper PDU can add another point of failure to your critical equipment. There are a full range of PDUs to meet your needs so you can rest assured everything is running at peak performance.
Basic PDUs
A basic PDU offers reliable power distribution to the cabinet to help manage power capacity and increase functionality. Basic PDUs have 0U, 1U, and 2U form factors and a variety of output receptacles for reliable, cost-effective power distribution.  
Metered PDUs
Metered outlet rack PDUs allow you to measure power consumption at the outlet level, gain level 3 power usage effectiveness (PUE), and perform accurate department and customer billing (for colocations). The metered PDU is ideal for deploying or moving critical server equipment as it can provide you with your power consumption instantly. 
Monitored PDUs
Power monitoring PDUs provide a comprehensive view of power usage in a data center, both at the rack and via remote access. The local and remote power monitoring options offer quick access to the PDU's current, volts, real power, apparent power, power factor, and kilowatt hours. By monitoring these critical variables, data center managers can evaluate energy usage trends and ensure maximum uptime.
Switched PDUs
Switched PDU offer real-time power consumption monitoring including voltage, real power, apparent power, power factor, amps, and kilowatt hours via a secure web interface, SNMP, or SSH along with the ability to remotely turn on, turn off, or reboot power at each outlet.
PDU Partners
Generators
Generators play an important role in your backup power plan. A generator paired with an automatic transfer switch will turn on when a voltage drop is detected. There can be a 3-5 second delay before the generator turns on and this is where the UPS keeps your equipment up during this short delay. Generators can carry a larger load and support your entire operation for an extended period of time. The most common fuel types for generators are natural gas and diesel but propane is also an option.  
Generator Partners
UPS + PDU + Generator = Comprehensive Backup Power Plan
Make sure your business is not susceptible to downtime by investing in a backup power system. You never need it until you need it.
Contact our Engineering team to learn how PTI can help you tailor a backup power system to meet your unique needs.